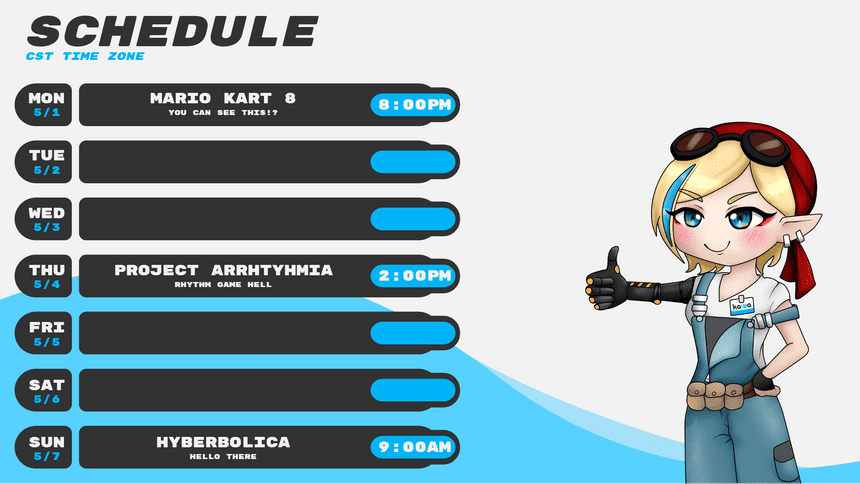 A browser-based schedule creation tool with completely custom color combinations built in no Photoshop required! Creating a schedule can become a chore for content creators. Schedule Studio aims to streamline that process, making it easy for anyone to create a schedule when on the go.
Open Schedule Studio Join support discord
Here's how to use our schedule creator!
Open Schedule Studio
Select your template and theme
Edit the colors
Edit the text (by clicking it)
Add your image (by clicking it)
Hit Save
???
Profit
Example Users
If the day was 2400 hours instead of 24 hours, I wanted to spend a week like this. * This is a lie schedule pic.twitter.com/HpflE45bBq

— 海底囚人/funamusea (@funamusea) June 5, 2022
THIS WEEKS STREAM SCHEDULE IM SO EXCITED FOR FRIDAY!!
Art: @Sevensweet4
schedule studio: @/kawa_entertain pic.twitter.com/PmA43qyZLk

— ⭐️🦋YOZZY🦋⭐️MOVING IN PROGRESS (@StarryYozzy) May 9, 2022
Schedule Studio is free to be used in any context (including commercial), but redistribution or resale is strictly prohibited.